5 Fabulous Farmhouse DIY Easter Decorating Ideas
Happy Monday Everyone!
For all those living in Sydney at the moment, I hope you are staying safe and dry after days of heavy rain. We've been lucky not to have any leaks or flooding (knock on wood). However, a lot of people have been effected to varying degrees. There have been road closures, mini cyclones tearing off roofs and taking down trees. Many house have been flooded and belongings lost. Some people are now homeless. Some people are cut off from family, work, friends and shops. Rivers are rising and dams are overflowing. And there is still more rain on the way. My thoughts and prayers go out to everyone who is effected, both big and small. 🙏
I love the rain, but too many days of it and you can start to feel a bit waterlogged yourself. The washing won't dry and everything feels cold and damp. You just want to snuggle up on the sofa with a warm cup of coffee. So, if like me, you are staying in today, I've got the perfect post to give you some Easter decorating inspiration.

Today, I'm sharing 5 of my past Easter projects that are fun and easy to make, whatever the weather!
1. Crochet Easter Bunny Bunting
I know, how cute are these!? My mum has always had a passion for knitting and crocheting. She taught me from a very early age how to do both. And like riding a bike, you sort of never forget. I'll admit I had to look up some of the stitches again, but there are so many YouTube videos out there, you will have no trouble learning how to crochet in no time. All you need is a hook and some wool. And there are so many bunny patterns free on the internet. That's where I got mine! Oh, and you can either use some more wool to hang them on, or some cotton string similar to what I used.
This is definitely a great rainy day project, so hop to it! 😜
For more details, you can see the full post here.
2. Cane Wreath and Canvas Easter Bunny
I made this cane wreath bunny in March 2015!!! Can you believe it? And, I still use it to decorate at Easter!!! Maybe I should give it a name, cause when you think about it, it's part of the family now. 😆
I love my wreath bunny. I love how you can hang it anywhere and it's neutral colours means it goes with everything in my Farmhouse style home.
And, it was super easy to make. You just need two cane wreaths, some wool for a Pom Pom tail, and some fabric for your bow, and some fabric and scrap cardboard for the ears. I used a canvas fabric cause I love the colour and texture of canvas, and I also had some spare on hand. You could probably spray paint the wreaths white if you wanted to. In fact, I may have to make another one now that I've thought of it. 🙌
And if you want to see my original post from way back in 2015, just click here.
3. DIY Hippity Hoppity Easter Sign
I know at Easter one of the songs I can never get out of my head is the 'Here Comes Peter Cottontail' song.
You know the one ...
Here comes Peter Cottontail
Hoppin' down the bunny trail
Hippity, hoppity
Easter's on its way!
Once I start, I just can't stop. I remember it clearly from my childhood. My brother and I used to watch the musical animation made in 1971 starring Dany Kaye.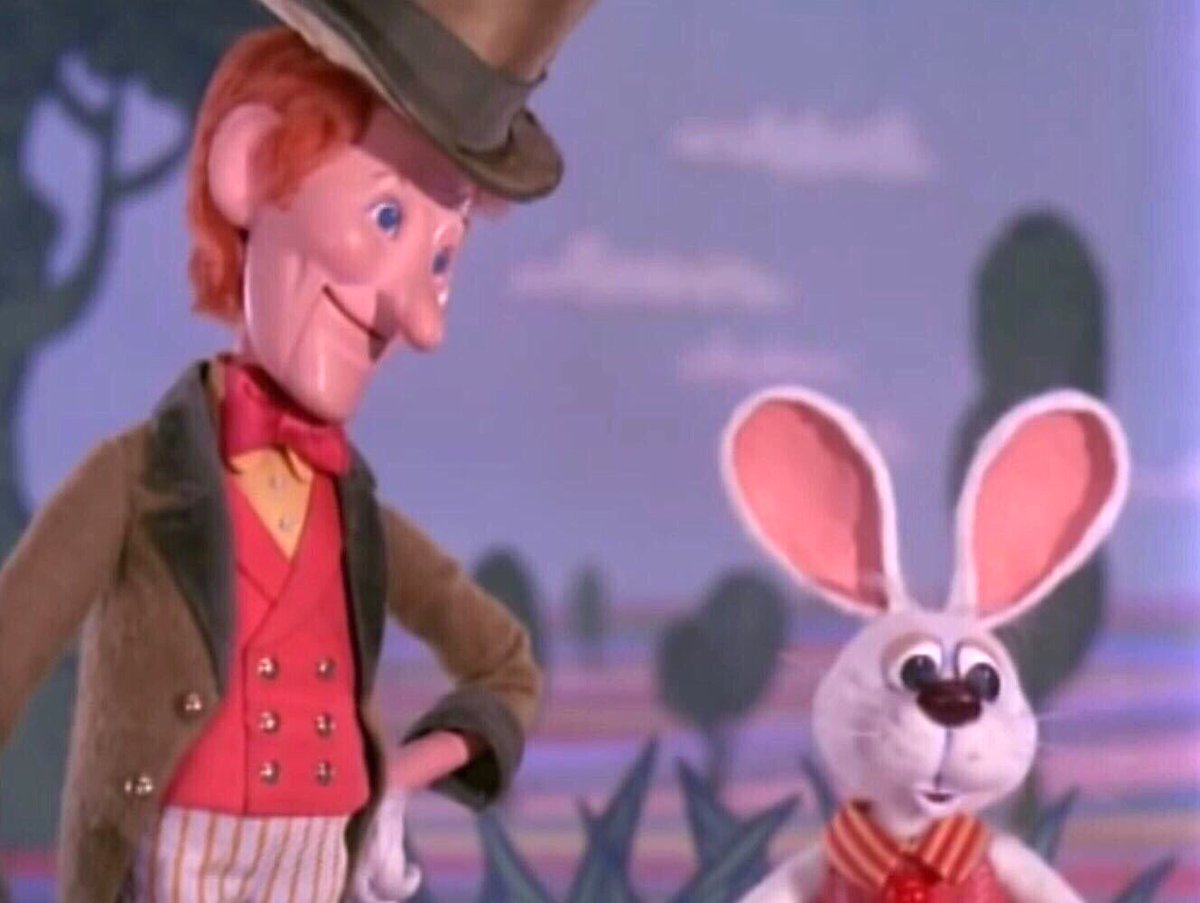 Okay, I'm not that old. Let's just say it was still going strong when I was a kid. 😉
And that was the inspiration for my Easter Sign.
You can see how I created it here.
4. DIY Farmhouse Easter Birdcage
bThis project just seemed to fall into place. 😁
You could probably use any sort of container, including a cloche or lantern.
It involved the layering of different elements to create a beautiful Spring inspired Easter birdcage.
And honestly, I was thrilled with how it turned out. It became a centrepiece for my Easter decor.
You can see all the details of how I created it here.
5. Stenciled Canvas Bunny Framed Picture
And last but not least, my stencilled canvas bunny picture. This was another project made from materials I already had and took very little time. All you need is some fabric, white paint, an old photo frame and a bunny template. You can design and print your template on the computer, or even draw one freehand!
You can see the full tutorial here.
And that wraps up my 5 Fabulous Farmhouse DIY Easter Decorating Ideas from years past. I hope you found some inspiration to create some beautiful Easter decor of your own. 😊
I've been working on my Easter table setting and hope to share that with you all very soon!
Enjoy your week and stay safe!
Shared at: